All of DubNation held their collective breath Monday for what probably seemed like an eternity. Awaiting the MRI results on Steph Curry's knee injury, Warriors fans breathed a sigh of relief with the good news that there was no structural damage and it was just a Grade I MCL Sprain.
But now people want to know- How long will the rehab take? When will Steph be able to get back into the Warriors lineup to lead this team on their march to another NBA Championship?
GM Bob Myers told the media that there are no guarantees (and there aren't when it comes to rehab because everyone's different), but expects the timeline to be around 2 weeks. That's based on typical expectations for a Grade I MCL sprain with a 2-3 week return to activity. It could be longer he said, but I actually think that it will be less than 2 weeks barring any unforeseen circumstances. Let me explain why.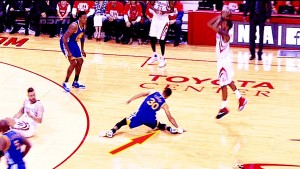 The Injury
With the replays and pictures of how awkwardly the reigning MVP fell Sunday afternoon at the Toyota Center, I'm sure many were shocked and surprised his injury was not more serious. I saw many a tweet from pundits and professionals alike predicting a more serious MCL sprain or even an ACL tear.
Upon further review of the footage, I noticed two things that helped minimize the stress to Curry's knee when he fell:
1) His Right Foot Was Not Planted- It actually slipped, just like his left foot did, from the sweat that was on the floor.
2) He Has Good Hip Mobility– His right hip internally rotates when he slips, banging the inside of his right knee into the floor, right where the MCL is.
At first glance, it looks much worse. But because Steph's hips are mobile, and his right foot is not stuck to the floor, he's able to preserve the alignment between the right hip/knee/ankle, thus saving his knee.  If either one of those factors were not there, than we may be talking about something else.


The Diagnosis
An MCL (Medial Collateral Ligament) sprain is an injury to the ligament on the inside of the knee that connects the tibia to the femur. With these types of injuries, forces usually come from the outside causing what we call a valgus stress to the knee. This valgus stress causes gapping (or stretching) to the inside of the knee resulting in a sprain. With a sprain, there can be partial tearing (Gr. I) all the way up to a complete rupture (Gr. III) of the MCL. These injuries may result in swelling, pain, and tenderness along the inside of the knee where the ligament runs. Higher grade sprains are also associated with instability in the knee when tested manually by a clinician. Gr. I sprains do not show evidence of instability.
But wait? How can Steph have a Gr. I MCL Sprain (partial tear) if there was no structural damage on the MRI? Does he have a tear or doesn't he?
As I mentioned earlier, it looks like Curry was saved from more serious injury by the way he fell. I actually did not see any valgus stress to the knee when you look at the slow motion replays. What may look like valgus, I believe, is just the way his knee was flexed as he was getting ready to plant that leg.
Without any visible valgus deviation or movement to his knee, Steph should only have sustained minimal, if any, stress to his MCL. He did, however, bang the inside of his knee quite hard into the floor. (You can see this if you watch the replay in real time). Swelling from that would be in the same area as his MCL.
So in the absence of any positive structural findings on the MRI, the diagnosis of a Gr. I MCL Sprain is basically made because he has swelling and tenderness on the inside of the knee in the area of the MCL. It could just as easily be a bad bruise though. There's no way to really distinguish between the two, all you would see is swelling and pain on the inside of the knee.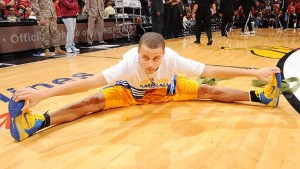 The Treatment
In the absence of any structural findings, meaning there is no instability in the knee, it's just managing pain and swelling from here and getting Curry moving when he's comfortable. Inflammation typically lasts from 48-72 hours after the initial injury, so they won't know where exactly Curry will be until probably Tues/Wed. As he feels better and moves more, he should continue to improve.
With a top-notch medical staff that has already garnered recognition from Klay Thompson earlier this year for helping him through a back injury, and cutting-edge equipment at their disposal like the AlterG Anti-Gravity Treadmill, I have no doubt they will get Steph back in action as soon as it's safe to do so. I wouldn't be surprised if Steph Curry starts feeling good towards the end of the week. That gives him a few more days to get his legs back under him before he's released to return to full participation. So my estimate is he'll probably feel ready to go at around 1.5 weeks (especially knowing that Steph wants to get back on the court with his guys). But as we've seen with these playoffs, it will be up to the medical staff and Kerr when he actually gets back on the court.
I've been really impressed with how the trainers and therapists have been able to keep guys like Bogut, Iguodala, and Livingston not just healthy, but playing at a very high level. #StrengthInNumbers to me applies to the whole organization. From the fans to the players, coaching staff to the medical team.  That's why I'm hopeful that Steph will be back sooner rather than later. And that's why I'm anticipating they'll make a nice long run this post-season towards another NBA Title.