Kimberly Huey, DPT
Director of Physical Therapy/Owner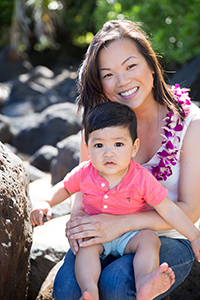 Kimberly is a creative and fun-loving physical therapist whose passion is learning and teaching about movement from the broadest possible perspective. As a physical therapist, Kimberly's goal is to understand each patient's lifestyle and concerns in order to set up a treatment plan that is individualized, integrative, & progressive.
Kimberly received her Doctorate in Physical Therapy from University of the Pacific in Stockton and completed her clinical internship with ESPT during the summer of 2014. Kimberly enjoys using various approaches specific to the individual patient's needs including Kinesio-taping and creative exercise prescription for pain management, total body strengthening, and return to sport. Prior to completing her PT education, Kimberly was very active in dance & tennis and enjoys using her past knowledge & experience in her practice. She aspires to be a Sports Clinical Specialist within physical therapy and is working on gaining experience within multiple fields of sports & athletics. Often times you may find her volunteering for the medical team at local running events to assist with triage for the participating athletes.
Kimberly is very excited to be back at ESPT to master her clinical skills and has been with ESPT since March of 2014. When not working as a therapist, she enjoys spending time with her toddler son whose playful energy certainly keeps her on her feet. She also has a passion for an active lifestyle including hiking, running and circuit training. Her positive energy is certainly contagious and will inspire patients alike to help them progress towards their rehab goals.
Send e-mail to Kimberley at kim.espt@gmail.com.
Jacon C. Chun, MPT, SCS, ATC, CSCS
Board Certified Sports Clinical Specialist
Consultant/Founder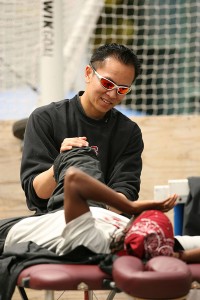 Jacon started ESPT in 2007 with the goal of providing the same level of care to the general public, that he saw being given to the elite athletes he worked with at the University of California at Berkeley and Stanford University Sports Medicine Departments.
Jacon was the only physical therapist in Fremont to be board certified as a Sports Clinical Specialist and one of only a handful in the whole Bay Area. He is a Fremont native, a graduate of Kennedy High School. He went on to obtain his B.A. in Human BioDynamics from UC Berkeley and his Masters of Physical Therapy from Samuel Merritt University.
He and his wife relocated in the summer of 2017 to a suburb outside of Austin, TX where he tries to keep up with his 3 young daughters. He still provides consultation to the business on an as-needed basis. He would like to thank all the past patients of ESPT for putting their trust in him and the team. We would not be able to serve this community without their support.
[photo courtesy of D. Gonzalez/Stanford Athletics]
Student Physical Therapists
As part of our commitment to the physical therapy profession, our expert clinicians at ESPT serve as Clinical Instructors and mentors to physical therapy students. These are all graduate level students in accredited programs, completing their affiliations and internships with our facility. They are well-qualified to evaluate and design a treatment program for your specific needs and are always under the supervision of our clinical team.
Jachin C. Hsu
Clinic Manager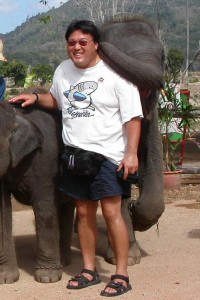 After nearly 20 years in the hi-tech industry as a computer programmer, Jachin has decided to make a career change. His background in supporting the various business groups such as Purchasing, Accounting, Customer Service, and Marketing has given him a wide range of experience to draw upon as Clinic Manager.
Here at ESPT, Jachin acts as front office manager, insurance and billing coordinator, and bookkeeper. In other words, he is ESPT's "Jake-of-all-trades." In his free time, he enjoys traveling to foreign countries, hiking, cooking, and following all the major sports in the Bay Area. If you have any questions about your insurance plan or you need to schedule an appointment, please give him a call.
Send e-mail to Jachin at jachin.espt@gmail.com.